WordPress websites, Ireland

Why Choose a WordPress website?
---
From a website makeover to a completely new site, WordPress is the choice of half the websites you'll see, for some very good reasons:
WordPress websites let you make changes yourself – from anywhere with internet access. Add Special Offers, seasonal discounts, announcements etc yourself. If you can use Facebook you can use WordPress.

They are 'responsive' and will work with all devices – essential these days.

You can have your own domain name so it's just like any other website, except you can edit it yourself with minimal computer skills.

Google's search engine likes WordPress websites and will list them highly when they are optimised correctly, giving you an advantage in the market.
My experience in WordPress will save you hours of hassle so you can get on with running your business. See my Portfolio for recent local projects.
I do some initial 'hand-holding' to get you editing your own site in no time. Written editing instructions supplied with each website if required.
What you get:
I will recommend a suitable 'Theme' – the overall design of your new website.
I will also add 'Plugins' to run contact forms, galleries etc. I know the best ones.
Security will be built in by me to stop your site getting hacked & to protect your online security and that of your website visitors.
I don't outsource anything and I've lived in Co. Kilkenny since 2000.
Contact me for friendly and knowledgable advice & help.
---
Did you know?
Many of the websites you see will have been created using WordPress – (such as this one) WordPress is easy to use, editable by you and performs very well on Google searches if optimised correctly. See a recent example here
---
Costs
Costs will vary according to quantity of content. A rough guide is:
Bronze Package €650 – 5 pages, header image, contact page, some SEO & your email added or a contact form, security plugins included. (Easily add as many pages as you need).
Silver Package €1100 – 10+ pages, header image, contact page, SEO backlinks, email setup, security plugins included. (Easily add as many pages as you need).
Gold Package €1500 – 15+ pages, header image, contact page, SEO keyworded backlinks, ALT Tags on images, email setup onsite, security plugins included. (Easily add as many pages as you need).
Website conversions to WordPress also available – please ask
All images are optimised for quick loading & have keywords added
You pay for domain name & hosting
Thereafter there are no running costs, except for domain name and hosting renewal
As your business grows I can add features to it
Remember – with WordPress you can make edits or changes yourself from anywhere with internet access !
---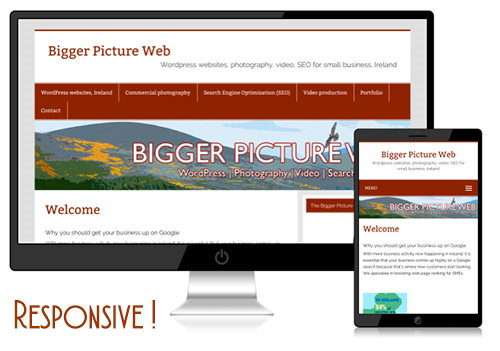 All our WordPress websites work on tablets & phones, which most people now search on. These are known as 'responsive websites'  – why not bring your website up to date at reasonable cost?
---
Did you know?
Trip Advisor & WordPress for B&Bs.
Accommodation service providers are leaving official Irish tourist bodies in droves. Their outdated business model yields little for the annual fees they charge and they are increasingly aggressive in enforcing 'standards' – who needs that?
Nowadays a good WordPress (responsive) website with Trip Advisor reviews linked to the site will work much better in reassuring intending customers. See my portfolio for some recent examples. My main accommodation service provider customers are not members of any official Irish tourist body and yet they enjoy high bookings & repeat business. Good SEO will get your business found, while Trip Advisor will reassure your customers much better than an official Tourism website can ever do.
---

Testimonial: "Hi, that looks really good, I really like the slideshows"
Responsive website update, photography & SEO for this successful garden-grown organic cut flower supplier in Kilkenny. Wedding flowers, cut flowers, brides, Kilkenny, Ireland, thewildbunch.ie
Recent work:
All-devices WordPress website with photography for Butler Court Kilkenny.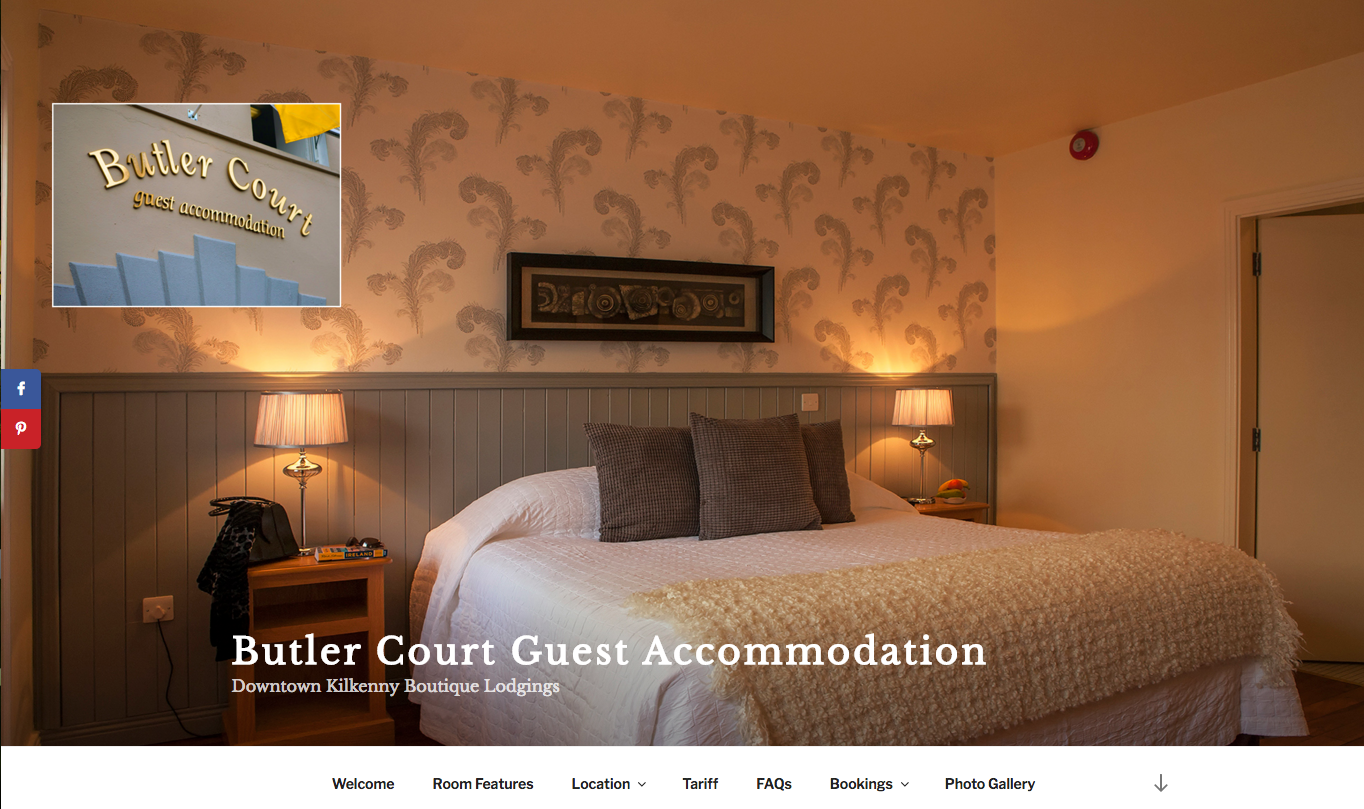 Listed by Rick Steves and Lonely Planet. Trip Advisor reviews are wildly enthusiastic and repeat business levels are very high. An active Facebook Page keeps in touch with repeat visitors. www.butlercourt.com
Testimonial:
"The website has exactly the right tone and style for our discerning North American guests. The photography is gorgeous. They absolutely love it" 

Yvonne Dalton, Butler Court Guest Accommodation, Kilkenny City.
---
Website makeovers to WordPress are available from your old website so it will work on all devices such as tablets and phones – essential these days. I've done many of these projects locally. I look forward to working with you !