WordPress websites, Ireland
Faster | Better | Cheaper ?
I trained in London at high-pressure corporate HQs
Highest standard photography & business web design
Low overheads, remote work. Savings passed onto you
Case Study – Kilkenny wedding florists
Website redesign for The Wild Bunch Flowers, Kilkenny. Using Elementor Pro and Convertkit plugins to provide responsive, elegant layout, look & feel. Simple yet effective for this flourishing wedding flowers creator. Pop-ups added for opt-in email and back-end payment system integrated. Visit The Wild Bunch here.
"It's absolutely perfect – I just love the pop-ups!" Tina McGrath, The Wild Bunch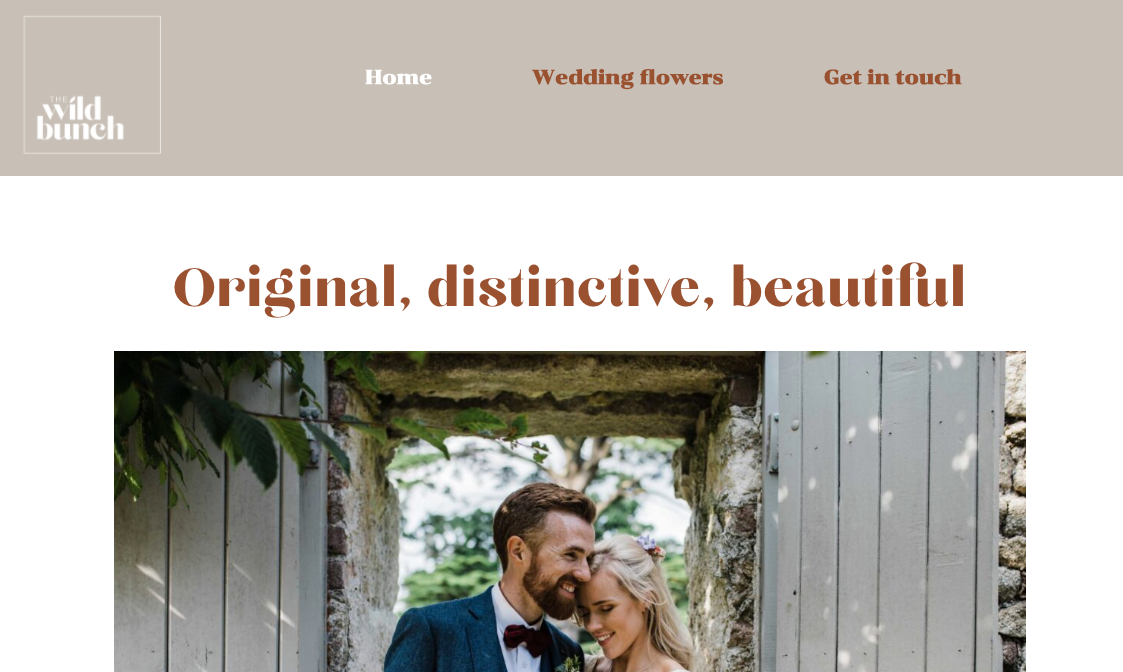 Tags: Wedding Flowers, Ireland, homegrown, natural bouquets, Kilkenny
---
Case Study – Eco Window Concepts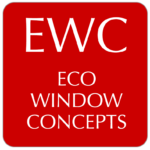 Carlow-based business reaches out to wide, new audience.
A major success story for this small business, Eco Window Concepts in Bagenalstown – growing through SEO and excellent customer service.
With all trade shows cancelled in 2020, the company decided to invest in top of the range web design and product information for both customers and architects – a strategy which has paid off. They now have 3 branches and 3 more staff.
Customers are searching online, so new website is there to meet them.
Very high Google search results for both Internorm and Solarlux windows and doors due to meticulous Search Engine Optimisation on their new website.
Energy-efficient windows and doors from Europe's leading manufacturers, supplied by Eco Window Concepts from their 3 branches in the South East.
Completed window & door projects being photographed for website and Social Media stories.
Money saved on Trade Shows being used to boost online presence.
Completed project gallery and customer reviews added to keep site fresh and reassure new clients of quality service.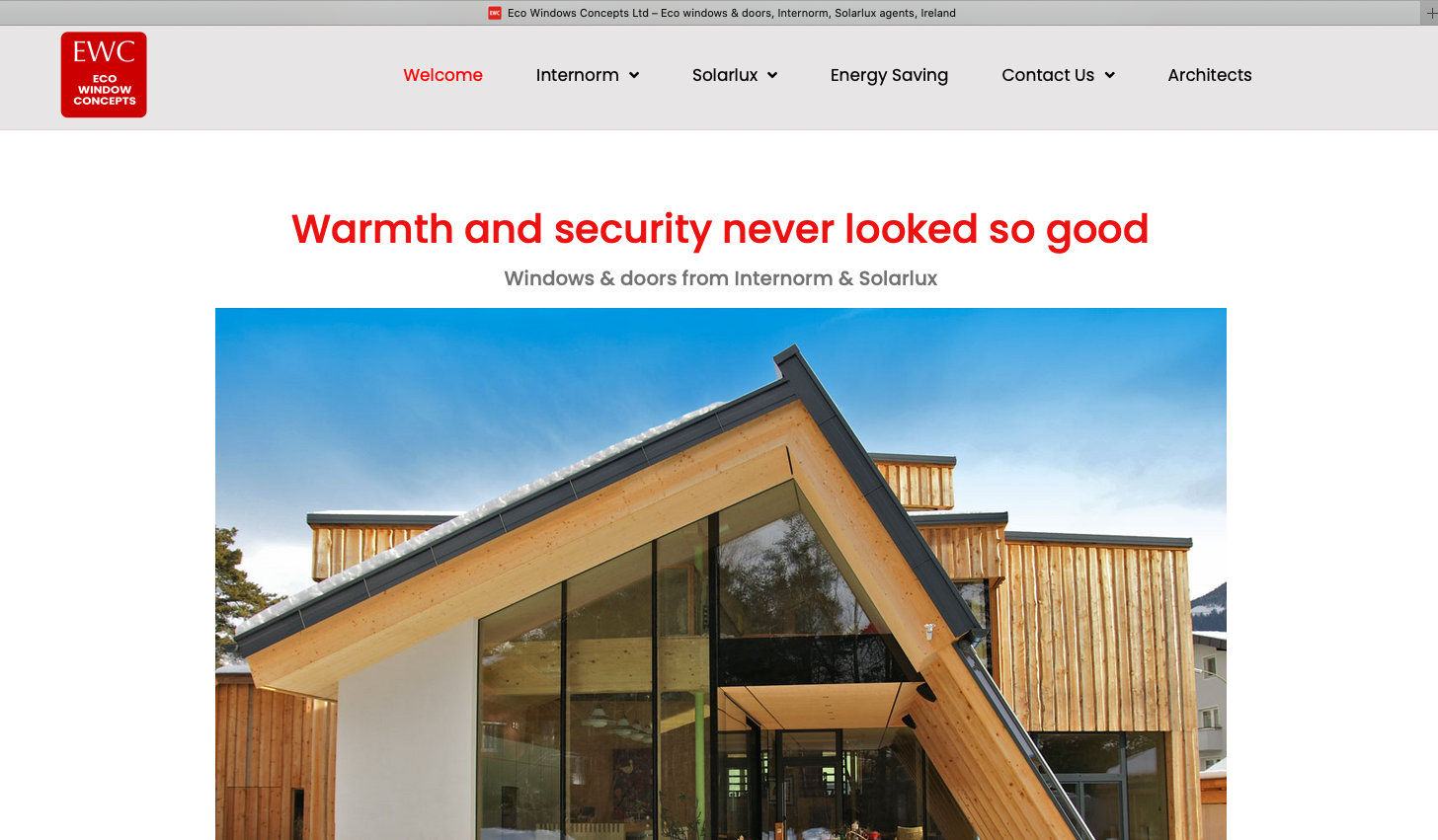 EWCL.ie – Eco Window Concepts, Internorm, Solarlux, Ireland quality partners.
Solarlux bi-fold doors and other glazing products, Internorm windows and doors, a new website for a local partner – brief – website design, bespoke email address & signature graphic, brochure downloads, search engine optimisation etc. Incorporating 2 older websites into a new company website, new Theme, Elementor Pro install, dynamic design elements, setup email addresses, logo design, copywriting, multi-location map, van graphics, email signature and 'completed project photography' in progress, along with Social Media targeted marketing campaign.
If you are ready for this kind of business success, contact me to look at what you currently have and to advise you where to get next with your online business presence.
---
Case Study – handmade candles
Established Kilkenny craft business launches thriving e-commerce online shop.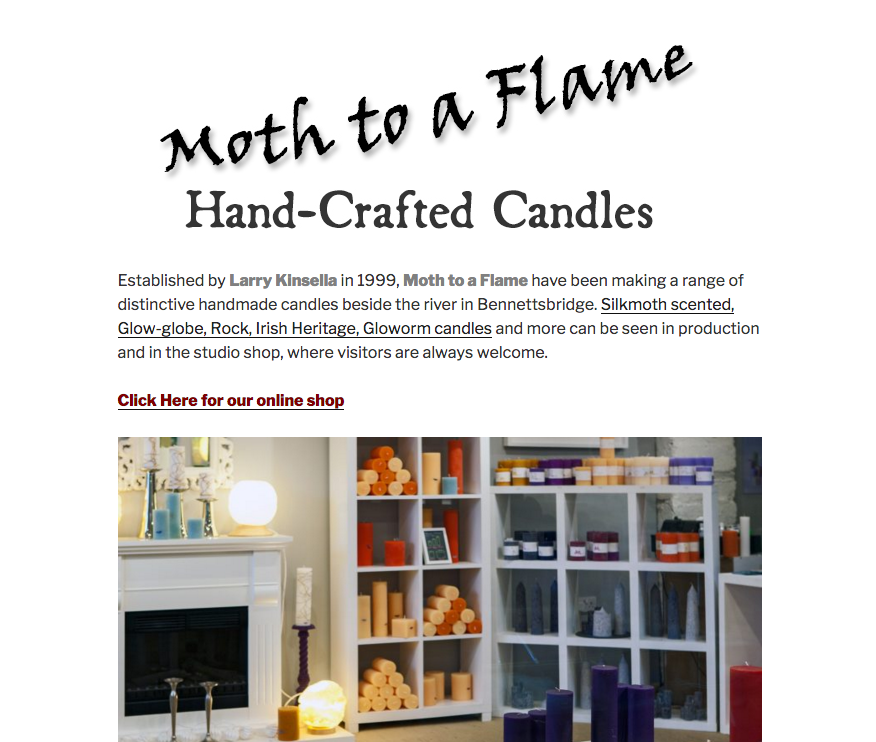 Moth to a Flame hand made candles, Kilkenny Click screengrab for latest website version.
Case Study: extensive studio and onsite product photography, WordPress website, SEO, planned Online Shop, active social media campaign to get this well-known business out there. YouTube video to act as lead-in to website. Instagram and Pinterest posts aimed at younger / new audience. Sales have increased very quickly and are set to grow further.
"All looks very good, Crisp, colourful : I'd buy from that shop…." Larry Kinsella, Moth to a Flame candles, Bennetsbridge, Co. Kilkenny.
---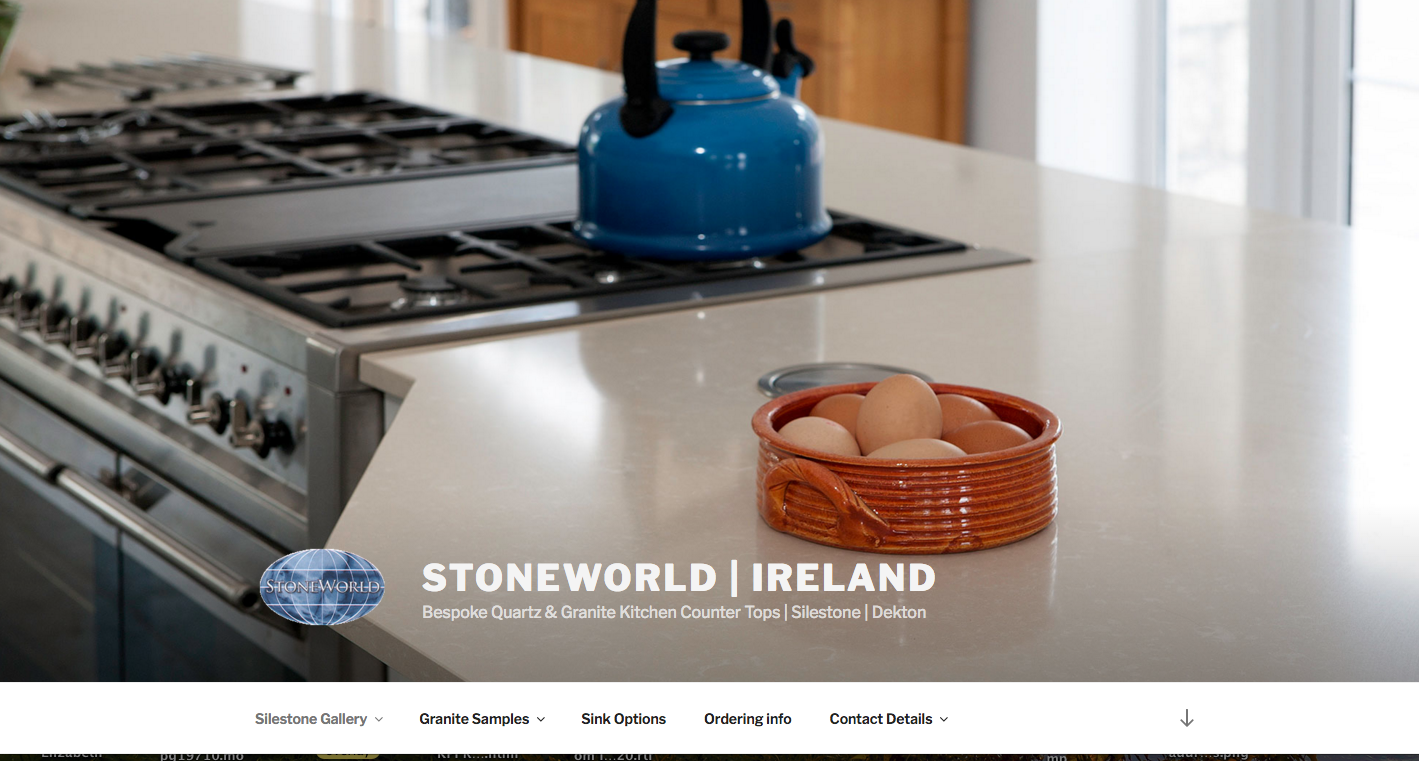 Stoneworld.ie supply Silestone, Dekton and other composite and granite kitchen worktops. I took dozens of photographs at homes and showrooms for the website. They service Dublin and the South East from their base in Bagenalstown, Co. Carlow. SEO on images and web pages has provided sales leads. Click photo for website.
Tags: Silestone, Dekton, kitchen counter tops, Leinster, Tipperary, Cork, Stoneworld
See more WordPress website examples here
---
CASE STUDY – Kilkenny downtown Guest House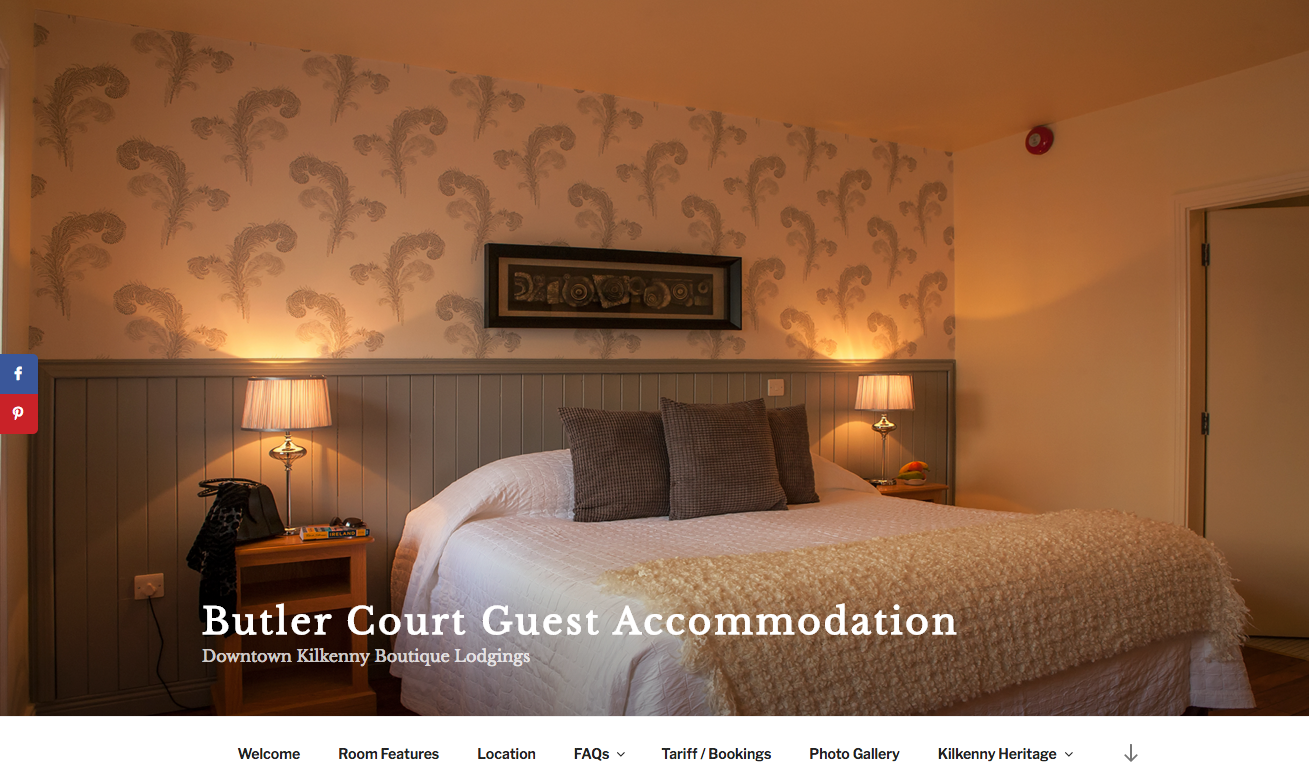 Recipe for success: simple web design, excellent photography and lots of useful content for visitors. Peerless customer service by the hosts helps too. Kilkenny's favourite city centre guesthouse. Click for website.Listed by Rick Steves and Lonely Planet. Trip Advisor reviews are wildly enthusiastic and repeat business levels are very high. An active Facebook Page keeps in touch with repeat visitors. www.butlercourt.com
Update: currently offering self-isolation rooms for incoming animation workers in Kilkenny.
Testimonial:
"The website has exactly the right tone and style for our discerning North American guests. The photography is gorgeous. They absolutely love it" 

Yvonne Dalton, Butler Court Guest Accommodation, Kilkenny City.
Kilkenny Guesthouse, kilkenny lodgings, kilkenny accommodation, guesthouses in kilkenny, central kilkenny accommodation, central kilkenny lodgings, Rick Steves Kilkenny, Butler Court Guest accommodation
---
The process:
I will recommend a suitable WordPress 'Theme' – the overall design of your new website. If you see one you like, it can be adapted for your website.
I will also add 'Plugins' to run your contact forms, photo galleries etc. I know the best ones to install such as Elementor Pro – the choice of millions.
Security  – I ensure all Themes & Plugins are kept up to date, backed up and are safe from malicious activity.
I do not outsource any of my work. It's all hand-built by me in Kilkenny, including organic SEO – to get you found on Google without the Paid Ads penalty.
Contact me for friendly and knowledgable advice & help plus a track record of delivering excellent results for my clients.
---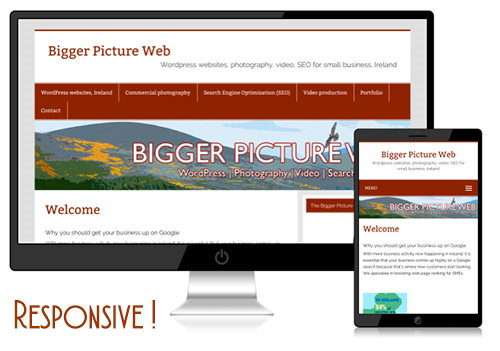 All my WordPress websites work on tablets & phones, which most people now search on. These are known as 'responsive websites'  – so why not bring your website up to date and look good on all devices?
---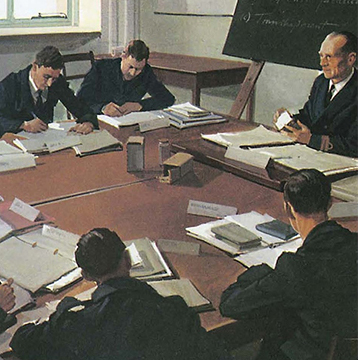 How to get great Google Page Ranking
To get your website listed highly on Google (without Paid Ads) I now offer keyworded backlinks. Combined with meaningful Page Titles, this works effectively on both established or new websites. It takes a week or so to get listed for the first time. You can opt for a once-off backlink or a regular tweaked service to keep you up on Page 1 of Google searches for your product or service. I also do Paid Ads on Facebook and Instagram by request.
---

Why Choose a WordPress website?
---
From a website makeover to a completely new website, WordPress is the choice of half the websites you'll see, for some very good reasons:
Features:
WordPress websites let you

make changes yourself

– from anywhere with internet access. Add Special Offers, seasonal discounts, announcements etc yourself. If you can use Facebook – you can update your WordPress site.
Themes can be added, giving a unique look and feel. Over 5 million web designers are using Elementor Pro – the new wave in web design. See ewcl.ie
SEO built in to get you up the Google Page Rankings (unpaid).
They are 'responsive' and will work with all devices – essential these days.
Ecommerce (online shop) can be added using a tried & tested, secure Plugin. (See more below).
Need a Domain Name and Hosting? – I'd recommend Carlow company Blacknight.com for excellent and prompt support. click here
---
E-commerce for your business
E-commerce or online shops can be effective and are easily added to a WordPress website. WooCommerce is the most popular. E-commerce can be a good way to sell items from your website to a bigger market. The initial setup takes time but updating afterwards is straightforward and you can do this yourself with a bit of practice (I'll help you get started).
Depending on what you sell, e-commerce can keep you afloat until things return to normal, post-Covid.
---
For the first time, 2018 saw ecommerce sales overtake traditional retailers in terms of sales. Source: Internet Retailer
I offer an e-commerce setup service, based on time spent and charged by the hour. No contract required. I can also work to a paid-per-month maintenance arrangement if you prefer. Please contact me for details with no obligation. I also offer high quality product photography and can work with your suppliers' photographs too.
Initial setup costs start from Euro 3000. You'll recoup that within a couple of months if what you sell is in demand.
The UK-to-EU market is suffering massive import duty and paperwork problems, so you can benefit from that by selling within Ireland and to the wider EU.
Online Marketplaces Grew 23% in 2018 and Account for 52% of All Ecommerce 

Last year marked a watershed for ecommerce. For the first time, the world's online marketplaces, the shopping malls of ecommerce, sold more merchandise than all stand-alone retail web sites combined.

Source: Internet Retailer 2019 (before Covid). As everyone knows, the lockdowns have devastated retail business, unless you have an e-commerce option for customers.
Old school websites:
HTML Websites
Long before WordPress came along, I started web design using Dreamweaver, an HTML design application. I even hand-coded pages. Here's an example: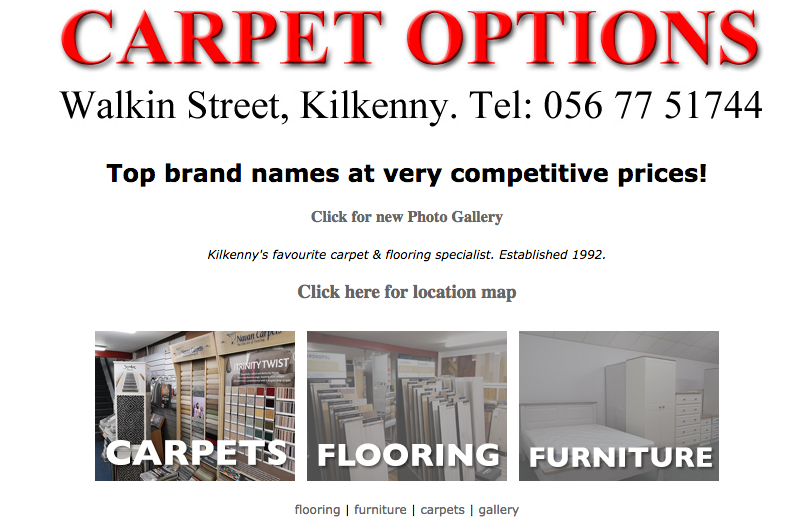 Carpet Options are Kilkenny's favourite carpet, flooring and furniture stockists. A simple website, listed very highly on Google search has helped them keep going and build on their excellent reputation, proving that you don't need a lavish website to harness the power of online searches.
---