Commercial photography
Unusually for a web design agency, I'm photographer (BA (Hons) and screen designer by background, rather than a techie, so my websites are visually appealing and user friendly with effective SEO as standard.
I offer contemporary and stylish product photography to boost your business image. As potential customers are now used to seeing high-quality product images, it's in your interest to ensure your own business photographs don't let you down.
I've worked in corporate marketing in both London and Ireland for 25 years, so you'll benefit from my experience.
---
Portable Studio photography
For smaller products, I can photograph in situ – without the need to take products away. You can supervise the shoot and decide then and there your final image selection. A simple 'light tent' can help produce amazing images, quickly and easily.
I can work with your supplier photographs or can take new images of your work to order. I also process photos specifically for print, signage, display, POS, van wraps or social media marketing – all ready for use. All photographs I use on websites are optimised by me for SEO search results on Google, archived and handed over on request or kept safe for future use.
Moth to a Flame Irish handmade candles from Larry Kinsella. The online shop was a lifeline during the Covid lockdowns. They offer beautiful handmade candles for all occasions. Photography & website design plus SEO to reflect and market these excellent candles.
Tags: handmade candles, Irish candles, Kilkenny, Ireland.
---
The choice of successful business – Butler Court Kilkenny:
Butler Court, B&B Kilkenny, kilkenny accommodation, Kilkenny lodgings, Kilkenny guesthouse, central, downtown, lodgings, lodging, guesthouse, central location, B&B Kilkenny city, Rick Steves recommended, lonely planet listed, city center, four star, B&B Kilkenny Bed and Breakfast, Butler Court lodgings, Kilkenny City, Ireland
---
Carpet Options keywords: carpets, laminate flooring, laminates, stair runners, stair carpet, flooring, furniture, kilkenny, ireland,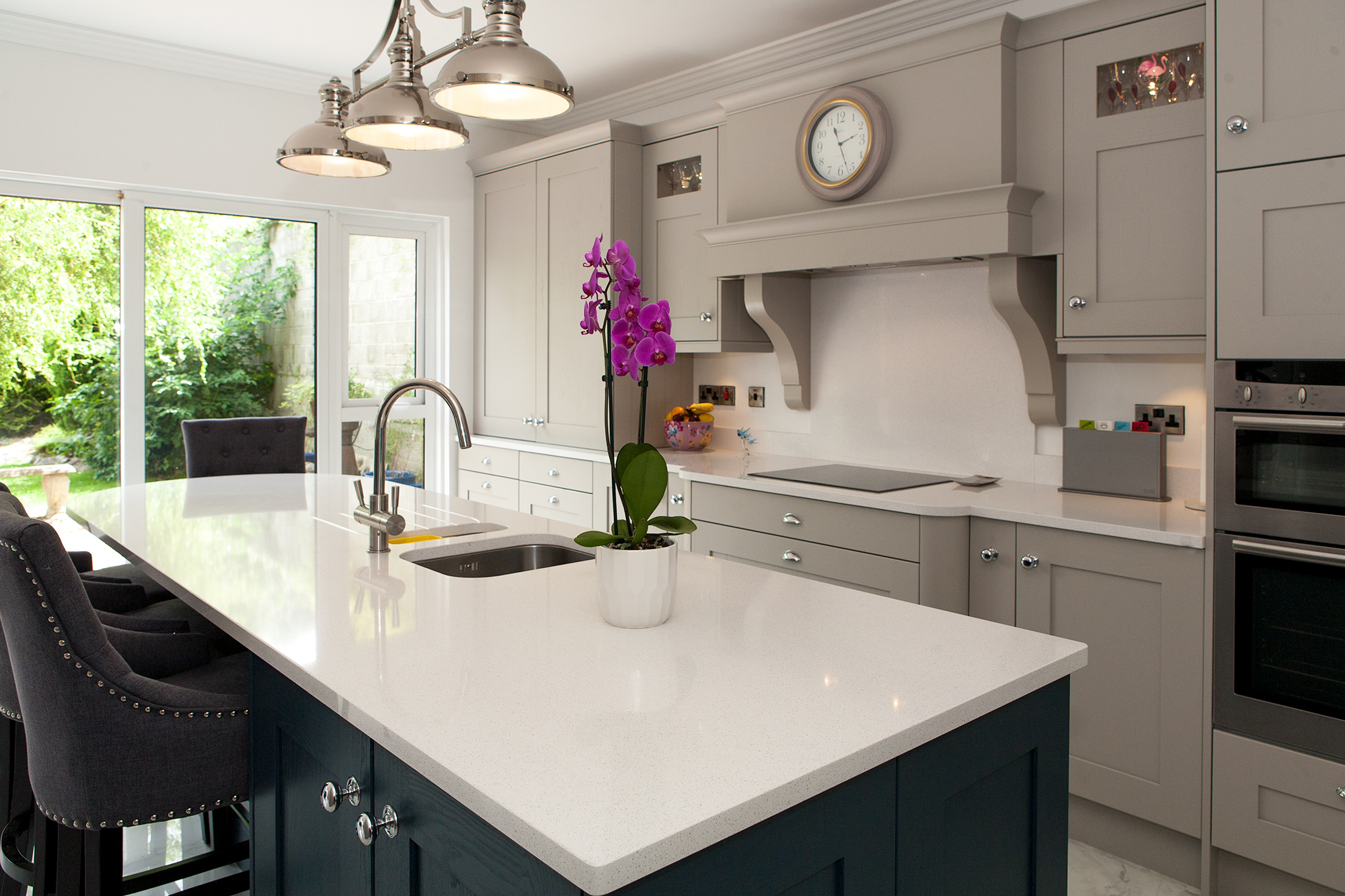 Real homes photographs for website, van panels etc. With the kind co-operation of the owner, I photographed this kitchen for Stoneworld.ie – suppliers of Silestone kitchen worktops. Natural light, blended with a touch of fill flash.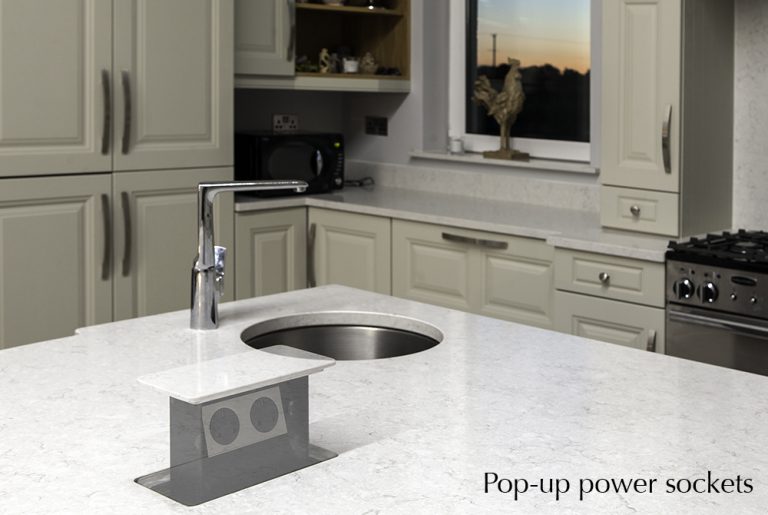 This shot required mixed lighting as well as a tripod to get two images in one. Post-processing in Photoshop allowed a blend of the two images to show power socket extended but transparent.
Where to use your photos
Photos are suitable for Brochures, display, flyers, trade shows, press adverts, Facebook, Twitter, Instagram, Pinterest & YouTube movies:
Slideshow with music, from my photographs taken for Stoneworld.ie brochure & website. Very successful company based in Bagenalstown and supplying the South East with Quartz & Granite kitchen counter tops. YouTube movies like this will provide an effective lead-in to your website if they are correctly optimised.
---
Kitchen Counter Tops. Brochure & web images for Stoneworld | Bagenalstown
"We are getting great feedback from the website. People like the way it looks and are finding us on Google". Niall Jordan | Stoneworld.ie
---
Instagram for your business
Did you know? – Instagram reaches a vastly different audience than Facebook or Twitter. It's more about visuals and it's well worth using Instagram to promote your business. The secret is in the correct hashtags. You also have an automatic feed on your website, showing your Instagram updates without any input from you.
Contact us for our new Instagram service.
---
Photography for local tourism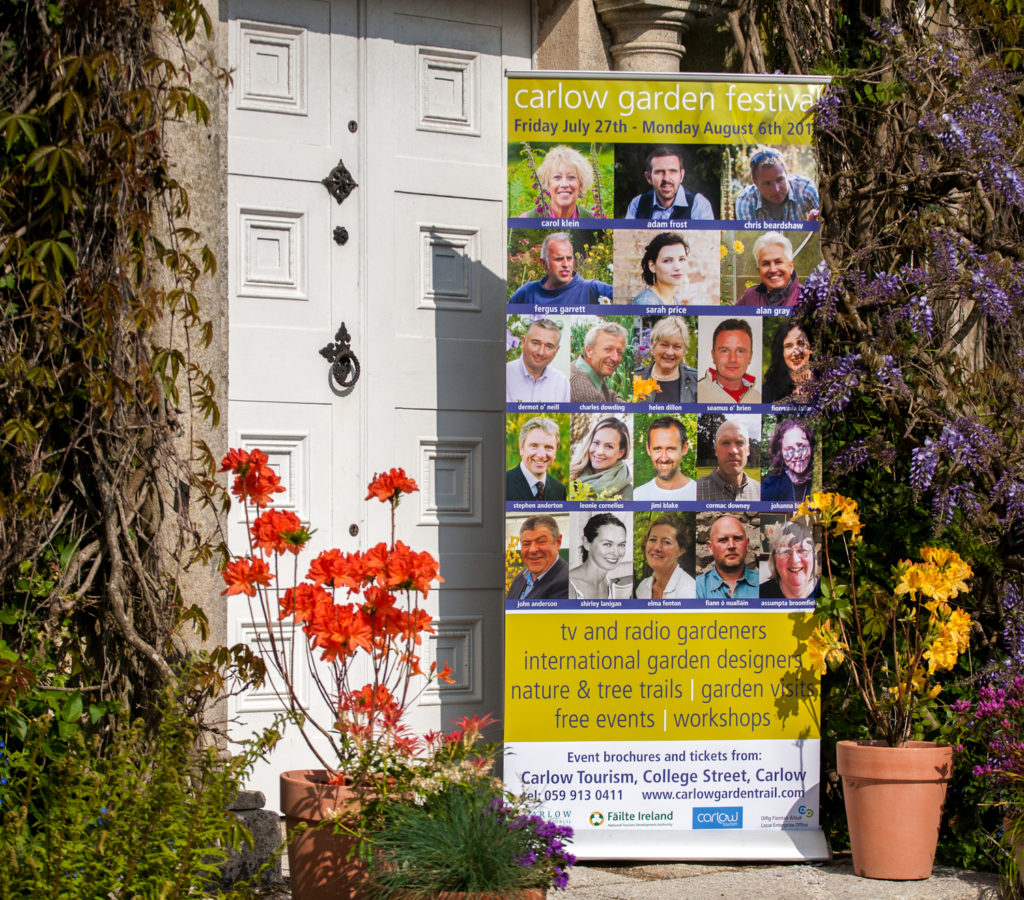 Photographs with a purpose: The renowned Carlow Garden Festival is an annual event, largely based around the County's 'Big Houses' & gardens. I used their display board to take a photo that encapsulated the Festival's theme in an image that could be shared on social media or sent with press releases. A higher res version was used for print.
The Wild Bunch grow organically. Their inspired designs, using seasonal flowers have led to them being hugely in demand by brides and event organisers. I designed a basic WordPress website for them and they update it constantly. I also took some photographs like the one above. Check them out here
---
Garden & Nursery Photography: I'm a keen gardener & I've photographed the courtyard garden for Butler Court, carried out nursery photography for Darver Nursery, Altamont Plant Sales and The Wild Bunch plus I've carried out extensive garden photography for Carlow Tourism | Carlow Garden Trail | Carlow Garden Festival (including guest speakers' portraits | Ireland's Ancient East photographic database.
Photographs can be used for print, web, social media and Powerpoint or display purposes. Great value too! Contact me here to showcase your garden.
---

Irish Scenics: "The pictures are wonderful, thank you ever so much". Henry Malone, Carlow Association, New York City.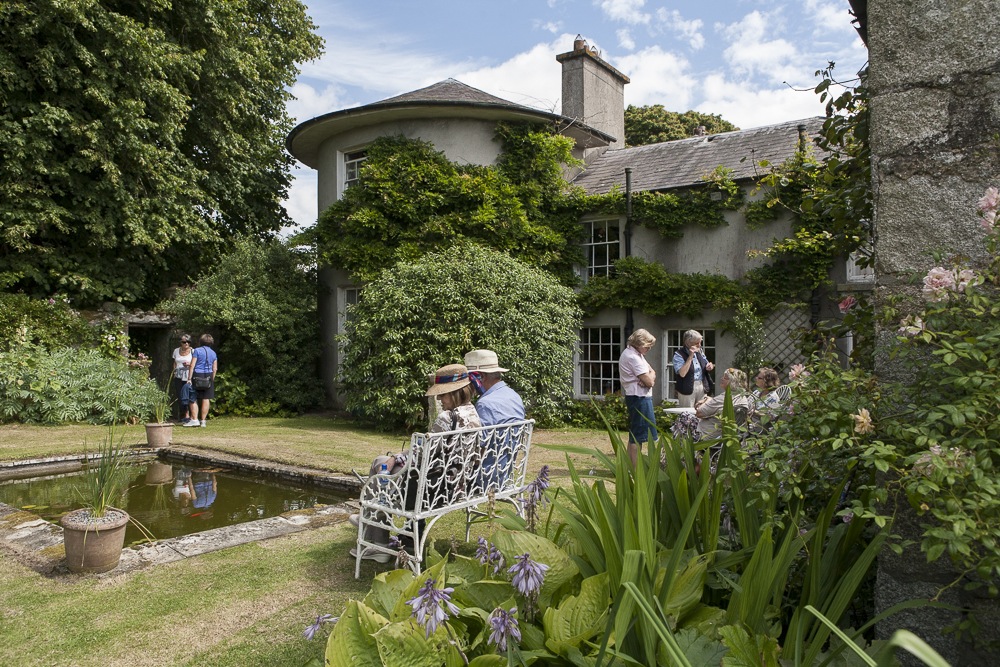 The gardens at Hardymount House, Carlow. Client Carlow Tourism | photographic database for Ireland's Ancient East campaign.
---
---
Why choose me?
Competitive day rate.
Twenty years' experience in commercial work.
I hand over all images on final payment & archive images for future use.
Post-production processing included in final images.
I provide interiors photography, architectural photography, product photography, small object product photography, process photography, scenic & press / PR photography – all to the highest standard.
My photography is suitable for your website, display & brochureware.
and finally, sorry no weddings ;-(
Background:
My photographic work has been widely published since 1985 in books, magazines, brochures, presentations, online and for social media including Facebook, Twitter & Instagram campaigns.
On my days off, I go out and take yet more photographs. I'm fortunate to live in Ireland and never short of subject matter. See some of my personal photography linked below:
Personal photo gallery & feeds:
Here are some of my 'personal project' monochrome and Instagram coloured photographs: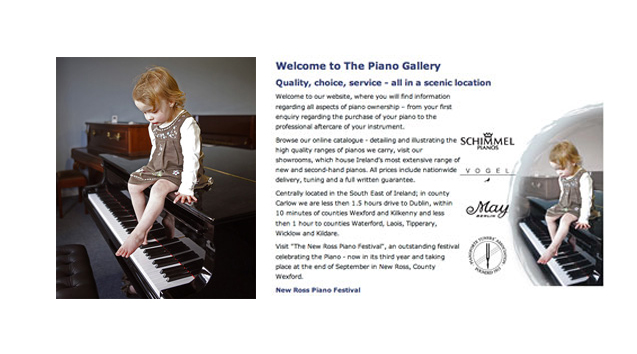 ---
Environmental portraiture

The Archivist
Taken early one Sunday morning. Irish historian & archivist John Kirwan was assembling research material on Kilkenny and the Great War for a future publication. I used my unobtrusive Canon G5 camera to try and catch a candid shot of him amongst his research materials. I think you have to become the Invisible Man to get good portraits. Luckily he was talking to someone else, so stopped noticing me. Natural light. The warm colouring reflected off the walls helped a lot with this image.
---
Personal photography project – WW1 battlefields
One of my ongoing personal photography projects is visiting the WW1 battlefields of the Somme and Ypres Salient. Both my grandfathers were 'in it' for the whole war. Both volunteered and somehow survived. I never met them, but it's good to walk the same fields and streets they would have known then, carrying rifle and pack. In a way it's a tribute to what they suffered. I was named after them, Pte James Francis Burke and Pte William Sleightholm.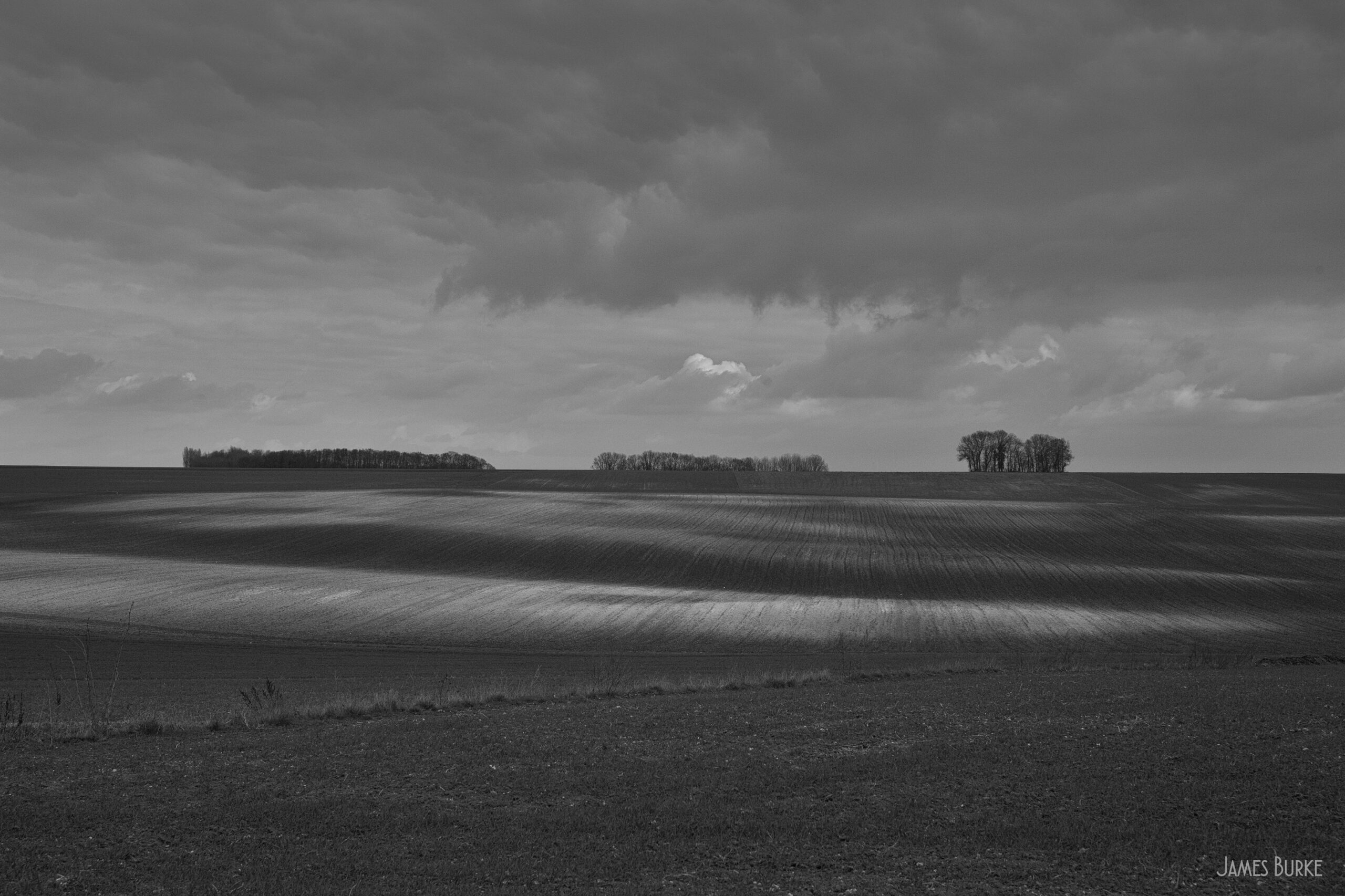 Somme landscape. The white marks are the remains of German trenches, dug into the chalk and scattered by a century of ploughing. I took this near the famous Lochnagar mine crater, looking towards Becourt and Fricourt. On one level, it's a peaceful landscape, but underlying that is the knowledge of what horrors took place here.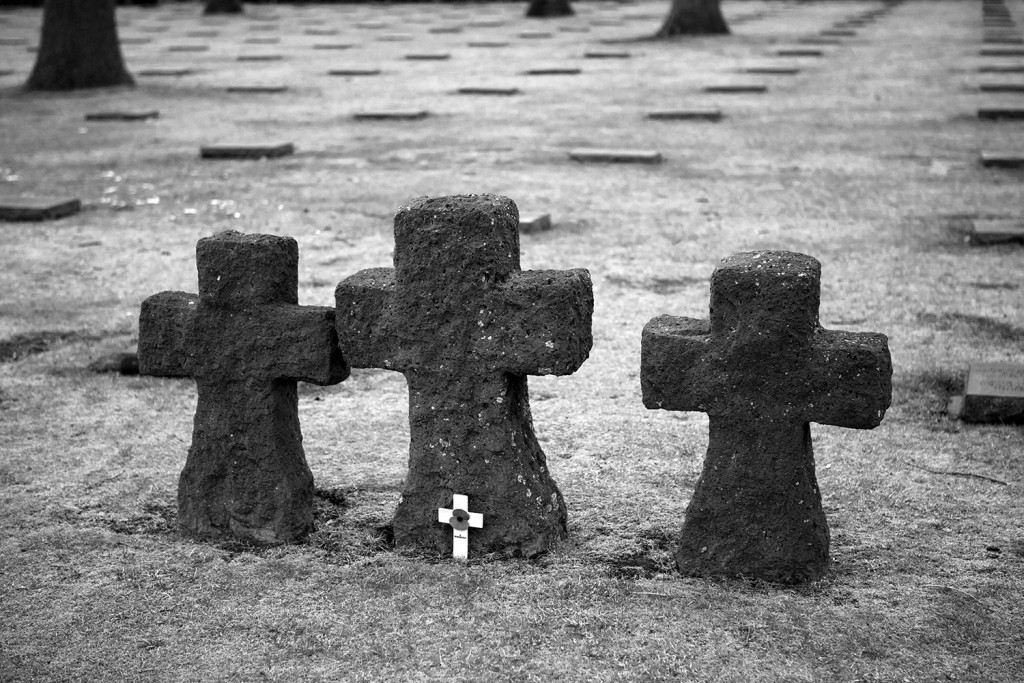 German war cemetery at Langemarck, Ypres Salient in Flanders. Unlike the English garden-themed British war cemeteries around here, the German cemeteries are 'concentrated burials', or mass graves. What was nice to see was the English remembrance cross, left by a visitor. Hitler was filmed visiting here during WW2. It's a sobering place to visit, in what was once a nightmare landscape, fought over for 4 years. My grandfather, James F Burke, was in action here in WW1 with the BEF Worcesters. His mother was German and his father Irish.
I am admin and photographer for a Kilkenny WW1 project on Facebook – click here.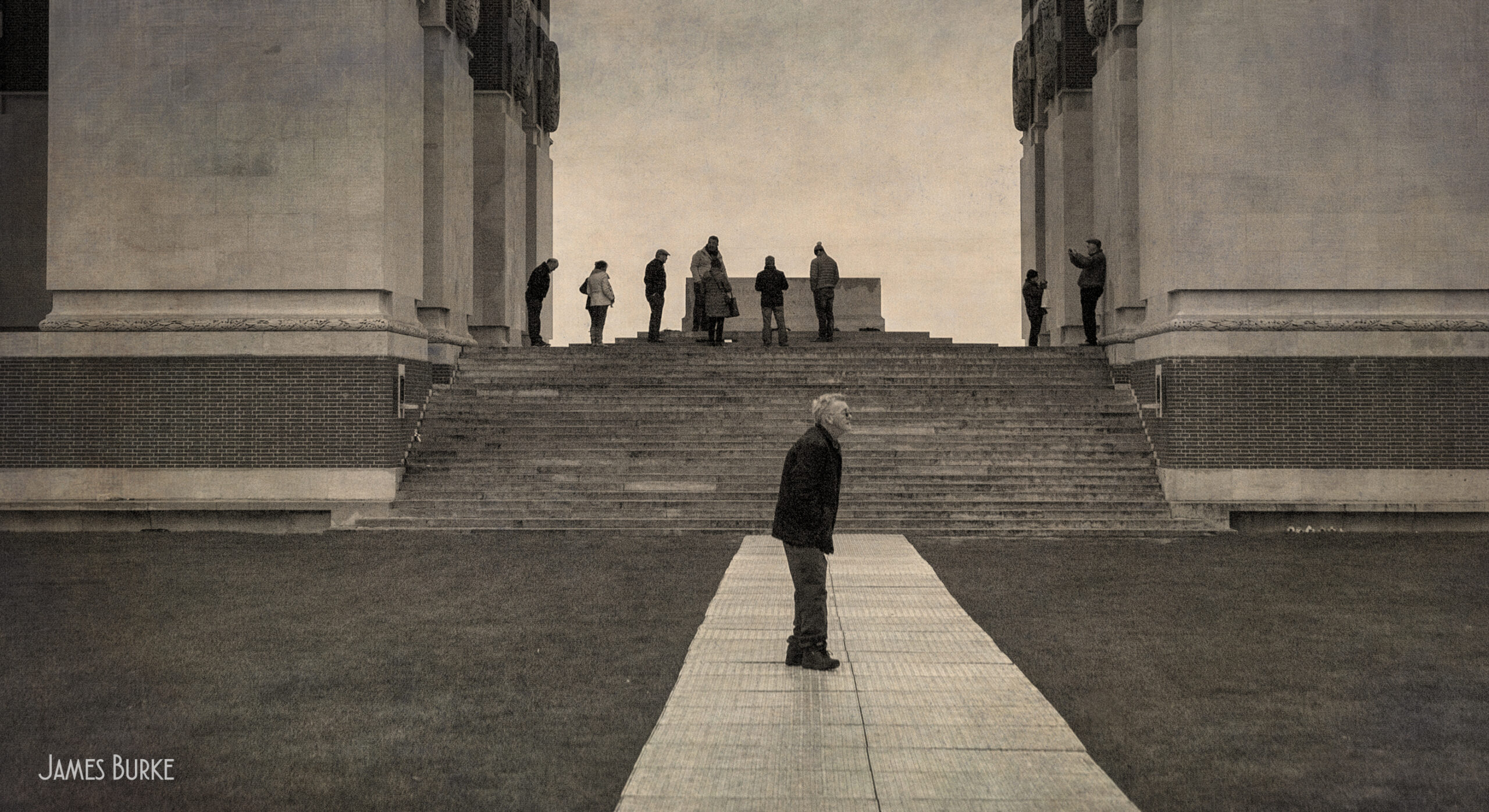 Thiepval memorial to the missing of the WW1 Somme battles. 73,000 names are listed. Men whose bodies were never found.
I talked to this man who is from County Offaly in Ireland. His grand uncle is listed as missing. He was 19 when he was killed and due to inherit a farm in Ireland and has 'no known grave' as official language put it. Like all Irish soldiers, he was a volunteer. The death of Irish soldiers whose bodies were never found was particularly hard on their families, who regularly visit the graves of their loved ones back home.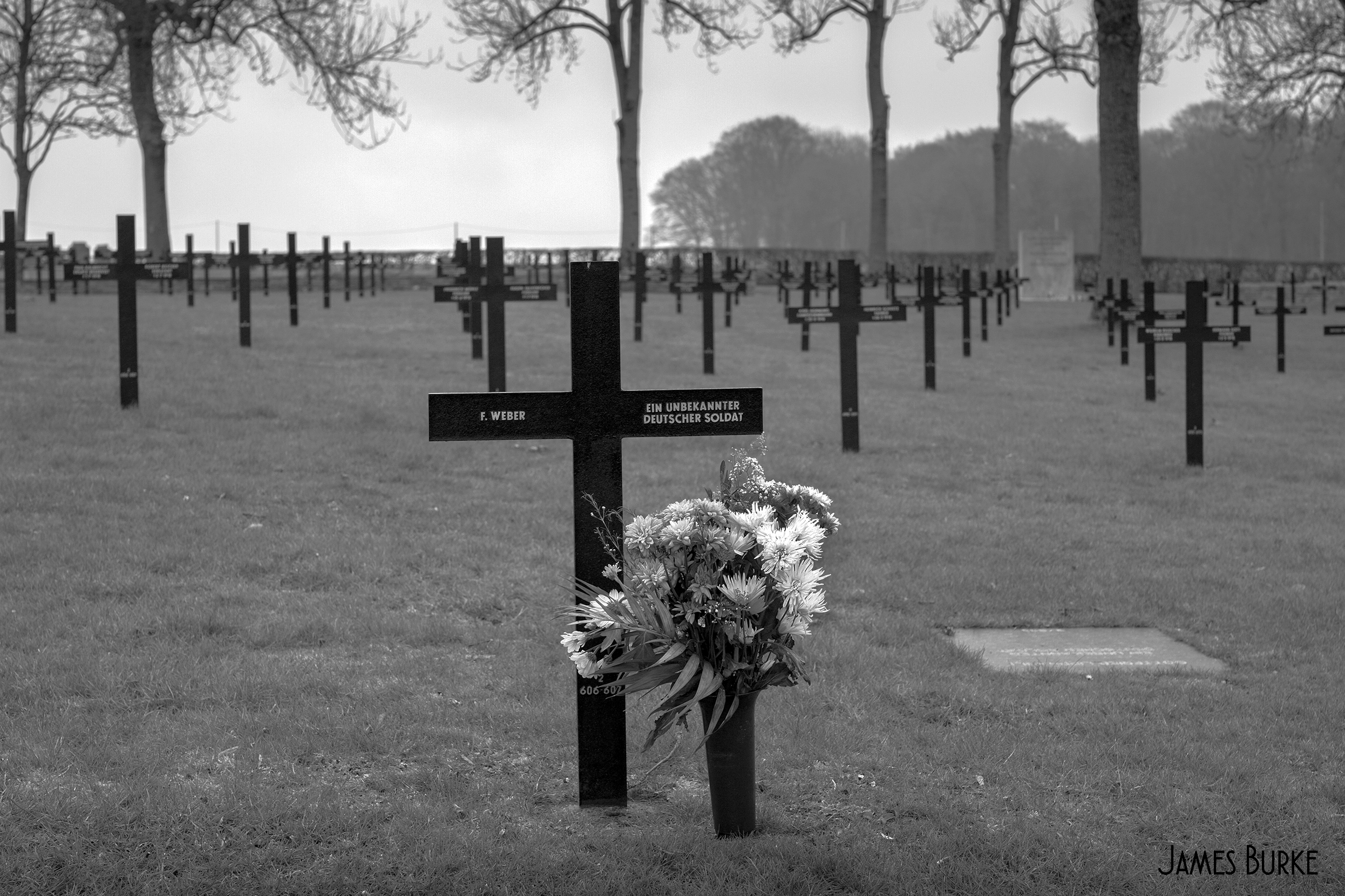 Unknown Soldier, Fricourt German war cemetery, Somme. Of the 17,000 burials at Fricourt only 5,057 German soldiers have an individual grave. They are buried in groups of 4. Comrades in death, as in life. The rest are interred in a mass grave, marked by the stone in the background.