Search Engine Optimisation (SEO)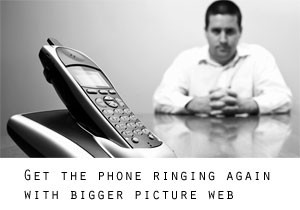 What is SEO and why do I need it?
Basically it means encoding your website for Search Engines (mainly Google) with search phrases which people actually type in when they search for products or services like yours. Google matches searches with these 'search phrases' and Bingo!  – they find you. This is how we all use the web these days for researching products & services and getting the best prices. Location is no longer a deal-breaker for buyers.
What is Organic SEO? – simply put, you don't have to pay Google to get listed highly. All parts of the website are optimised for Google searches. See graphic at foot of page. I offer very effective "organic SEO" for SMEs.
If your website is optimised for search engines with SEO then people will find you when they look for your products & services  – simple as. 

It works for start-ups or established businesses which don't yet show on Google. It is by far the most cost-effective way to boost your company's search results compared to print media or Facebook posts.
FEATURES of my SEO service:
Straightforward navigation and images which are marked up with 'Alt Tags' also help this process. Google cannot 'read' images but it can read Alt Tags.
Importantly, I  supply my clients with 'backlinks' to their site from mine – rapidly boosting Google Page Ranking and keeping websites high up on Googles result pages.
I also read over any text on your website with a view to making it more results-friendly on Google, whilst staying readable for human visitors. See my copywriting service here.
I don't recommend 'big video' in the background of web pages as speed of loading is a major consideration for both Google and your web visitors.
43% of web traffic now comes from organic (non paid) listings. You can't afford to ignore it. See examples below –
How SEO works

A search for "Silestone Dublin" yields the first 4 images from the Stoneworld website, despite their being in Bagenalstown, Co. Carlow. They do supply Dublin so I added Alt Tags to each image as I uploaded them. This is SEO working to provide sales leads to small companies. It can do the same for your company, giving you a competitive advantage online. Contact me for a competitive quote with no obligation.
---
Real-world SEO for small businesses.
Example 1:
How business is changing in Ireland – and why you should change too.

Since the M9 motorway opened, many Carlow & Kilkenny businesses have begun to supply customers in Dublin with it's huge market. Installers can now get up and down to Dublin in a working day. To this end, I have optimised the Stoneworld website for "white kitchen counter tops" and "Dublin"

Bagenalstown-based B2C company Stoneworld now enjoys a Google (non-paid) listing right beside giant retailers Woodies (paid ad) IKEA. Not bad for a small firm!
I can do the same for your company. Give me a call or read more below..
---
Example 2: Accommodation providers in Kilkenny
---
Q. Why should I add SEO?
Whilst established businesses get repeat business or referrals, with effective SEO you also get website visits from those people who don't already know about you. "As most purchases for non-essentials now begin with a web search, it is essential that your business is up there on Google to meet potential customers". After that it's up to you to compete on price and customer service – as you already know. Social media won't cut it so you'll need proper SEO.
'Organic' SEO is the most cost-effective means of advertising your business when compared with print media or Google PaidAds. See graphic at foot of page.
I add keyworded backlinks from my 2 websites. Both sites are highly ranked by Google and within 1-2 weeks yield excellent search results for my clients.
Social Media cannot provide the same results as SEO on Google – it has it's place but SEO will give you far better search results.
Have you noticed that Facebook company pages feature nowhere on Google search results? – you need proper SEO on your site.
CASE STUDY:
Sample backlink for established Carlow outdoor play equipment company.
Job Brief: E-commerce website which wasn't performing well Google, despite making & selling excellent outdoor play equipment. In collaboration with the owners, I have optimised their web pages for Google searches. Combined with my backlinks, this quickly boosts search results for the company resulting in more traffic, enquiries and sales from their website.

"swings ireland, ireland, slides ireland, slide Ireland , climbing frames, playhouse, swing, Slides, Tube Slide, Spiral Slide, Doll Houses , Backyard Fun, Outdoor Fun, Jungle Gym, Redwood Swings, Wooden Swings, Play Kitchens, Crèche, Playground, See Saw, Sand Pit, Toy Farm Houses, STT Swings, outdoor Irish made playhouses, tree houses, wooden toys, swing sets, wooden swing sets, Ireland, baby swings, playhouses, tree houses, swing sets, crèche equipment, playschool equipment, Montessori equipment, play equipment"
I've also optimised their website with the same search phrases. If you fail to do this on your website you will miss an opportunity to get much more traffic & enquiries.
More about backlinks
Backlinks are links from websites to clients' website. My websites are highly ranked by Google and it follows links out from my site to client sites.
As customers usually search for products rather than company names, I add linked keywords for product names which Google will pick up and list. This guarantees higher Google search listings very quickly. No paid adverts required !
---
Our Options:
Natural Search Engine Optimisation (SEO), carried out in-house and ethically. Not Paid Ads or Social Media 'noise' but correctly-optimised, Google-compliant techniques which I have developed to get businesses listed highly and quickly. It's cost-effective and works very well. This can also be carried out as part of my web design service for new websites. Please enquire
I also offer a popular 'SEO makeover' service for websites which perform badly on search (the bit your web designer forgot to add). This involves my talking with you to find the key search phrases for your business, writing search code and supplying keyworded backlinks from my own websites. The code is emailed to you (or you give me the login and I add it to your website). Your website will then dramatically rise up the Google listings. I have done this for Irish, NI and UK companies with quick results. The basic makeover costs only €450 for a limited time. Please enquire

3. Long-term SEO. The services outlined above will get your website up on Google and keep it there. After a while though, it is necessary to tweak the search terms in order to keep content fresh. Google looks for regular activity on a website so you need to make small changes now and then to stay highly listed. We can take care of this for you with a good value bespoke, long-term SEO package. Please enquire
---
Getting great search results for your business. An real-world example for a Kilkenny Start-Up business using our SEO:
Case Study: The graphic below shows how a Google search for "laser engraver ireland" will display the Paid Ads at top and right. The first 'natural' or 'organic' (non-paid) listing is for our client, Circle Laser a start-up business in the Hebron, Kilkenny. This is a result of our correct Google-friendly Search Engine Optimisation (SEO) which we do in-house using 'ethical' (Google compliant) means. We have proved many times that you don't need Paid Ads to get listed highly and you'll save money and time with Google-approved SEO from us. Contact me for a free evaluation of your website's SEO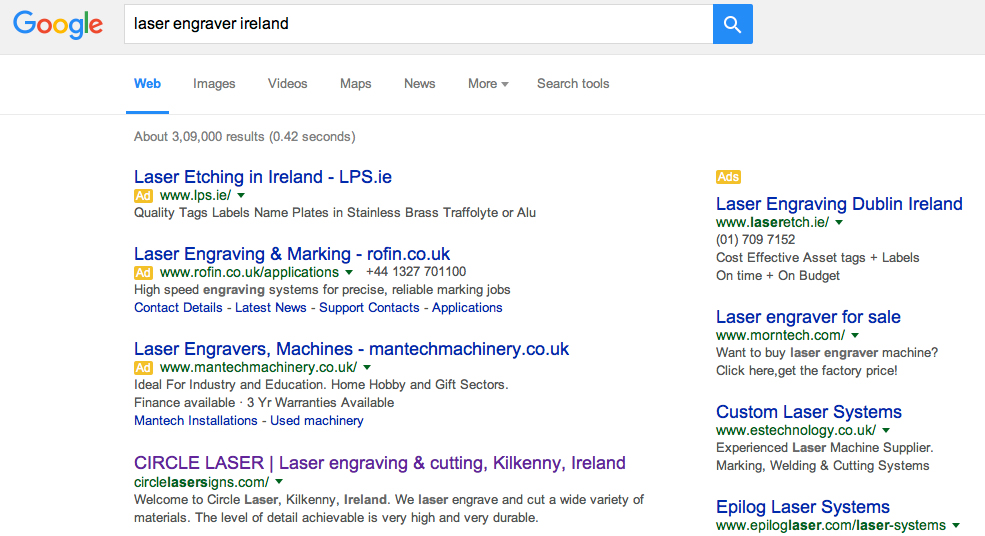 ---
About me: I run a small business so I know what the realities are – keeping overheads to a minimum and adapting your product & service range to meet the ever-evolving market. Here are some question I get asked regularly:
Some FAQs:
Q: What about Facebook and other Social Media?
Well we recommend YouTube video to add links back to your site. A blog or Facebook page can be handy for feedback & interaction (if not sales) and I can set up a business FB page for you, but make sure that you monitor what gets posted so it doesn't detract from your professional business image. TIP: Always keep your personal FB page separate from your company FB page and monitor it for enquiries – people leave enquiries and get peeved if they are not answered promptly.
---
Q: What about e-commerce?
Unusually perhaps, we don't recommend it for most small businesses for the following reasons:
a) It will cost you a hell of a lot of money to have it set up.
b) It takes a lot of time (or money) to run it properly, so make sure you are prepared to invest a lot of effort if you decide on e-commerce. The returns are not all they are cracked up to be (see Wolfgang Digital research below) – approximately 2% conversions (visitors vs sales). Your budget is better spent on effective SEO to get you up on Google, where people may be searching for your products & services.
TIP: You can accept payments via PayPal or credit card over the phone very easily these days, so why not do that instead? You can add e-commerce later on if it suits your business model. Consider an Ebay virtual shop as an alternative. Many businesses run exclusively through Ebay and have massive sales.
---
The 10% 'conversions' myth
You'll probably hear the assertion that "10% of your web visitors should be making a purchase" – this is patently untrue, as the chart below shows clearly, unless you are already a household name. Wolfgang Digital (who market the Guinness Storehouse amongst other huge clients and have a world-class reputation for SEO research) have shown the 10% myth to be a wild exaggeration. Read their 2016 results below their graphics, based on 87 million website sessions !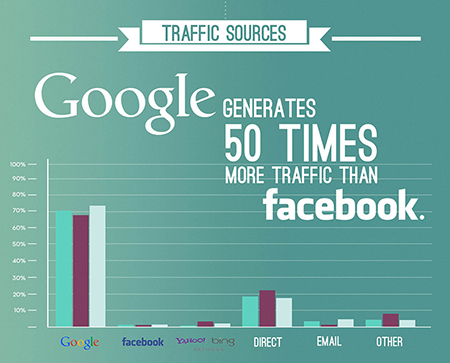 Irish web traffic research based on 56 million 'hits': Source: Wolfgang Digital, Dublin
The Facts:
"Online-only retailers have a conversion rate of 2 per cent, compared to 1.1 per cent for multichannel retailers that also have bricks-and-mortar premises, to which web browsers may be planning a real-world shopping trip".
Read Wolfgang Digital's ecommerce survey 2017
---
Q. I want to get good listings on Google. So what should I do next?
A. Why not get me to look over your website? – No fee and no obligation. I will recommend the best options for your business.
Q, Why should I choose Bigger Picture Web?
I was trained in London and I don't know of any other Irish-based business offering this one-off SEO service – why not get ahead of the competition with a SEO makeover from the experts at Bigger Picture Web?
Contact me here